Nicky The Diaper Sissy
March 12, 2019


You Have To Stay In Diapers!!
March 18, 2019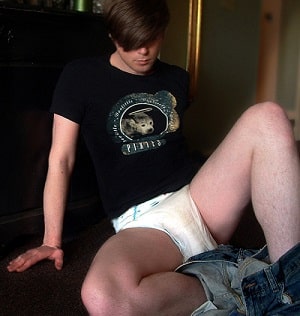 (first part) He had fussed and argued with Aunt Brenda about wearing diapers because of something that happened ten years ago, but Danny wasn't given any other option if he wanted to stay here! He was mortified about the whole thing, but Aunt Brenda had said that if he could go a week without having an accident, he would be allowed to take the diapers off permanently, so he laid down on the couch while she could put him in a very thick one. After she was done powdering him and taping up the embarrassing cutesy diaper he moved to get up when his stomach started to cramp a little bit. He pressed a hand to his belly button, then suddenly felt the oddest sensation that he quickly realized was his bowels relaxing and emptying into the diaper he swore he wouldn't need! It wasn't quiet either, and Aunt Brenda gasped a little, and asked him if he'd just made a poopy diaper. He hollered out 'No!', but the noises and smells coming from his diaper told another story! Auntie gave him a time-out for lying, setting him on the floor in the messy diaper, saying he could get up when she decided! So here he was sobbing just like a little baby! He was going to be forced to wear diapers for the whole summer and thinking about it just made him cry harder. Do you think he deserves this? Call me for some age regression phone sex to tell me.
Brenda
1-888-430-2010
Click Here to chat with a phone sex Mommy!
#forcedregression #forcedintodiapers #messydiaper