Mommy Watched You Be Naughty In Your Diapers!
August 19, 2018


The Little Diva Sex Talk Part 1
August 21, 2018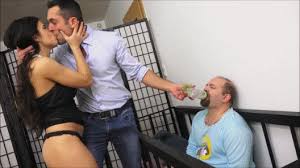 Dave sat in his crinkly adult baby diaper in the corner of the bedroom, sucking his pacifier gag as he watched his wife on the bed they once shared. His itsy bitsy baby cock ached with how hard he was, Dave reached down to rub it through the locking plastic pants she had put him in before heading out for her date earlier. While she went out with her sexy bull for a night of grown up fun, Dave was at home in his cuckold baby outfit, crying as he messed his diaper and waited for her return. He couldn't believe she had brought him home! His wife was proving tonight how different things really were now, that she was going to go out and get her pleasure even if she was married to a sissy adult baby. And that wasn't all she had in store for him! Babies can't be left unattended, of course, so she started calling a phone sex mommy line for a sexy sitter to tease him while she was out. He had truly been regressed to a helpless cuckold baby.
XOXO
Mommy Jackie
Click HERE to talk to a phone sex mommy 1-888-430-2010
#abdl #phonesex #porn