Mommy Lauren gets into the holiday spirits by putting up a tree decorated with strings of colorful lights and pretty ornaments, and then filling the room beneath it with lots of presents. She has tons of fun wrapping up gifts with Christmas paper and mountains of curly ribbons.
What do you think Mommy Lauren got for all the adult babies that she loves so much? She is very crafty and a great seamstress. Maybe she made you a fantastic new blanket to snuggle up in! Or a big stuffed doggie, with soft ears and button eyes. Mommy has been saying that you need a new pacifier. There are so many boxes, surely one has a new plastic pacifier for you to chew on. How awful would it be if she has a training potty in one of those bigger packages? Oh no!
There's still time for Mommy Lauren to add more presents under the Christmas tree. What would you want her to surprise you with? Something you have a fetish for? If you've been nice, maybe she will consider it!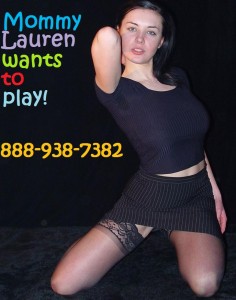 Call Mommy Lauren at 888-938-7382