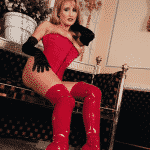 I know most little phone sex sissies need to be pushed into wearing dresses and makeup. Some sissies have no desire to wear makeup or anything aside from clothes. Let's say I invite you to my house.
Once you arrive I have you take a shower and then have your entire body covered in hair removal. After all, a sissy should be clean and hairless. Next Comes a pink floral satin thong riding up into your silly sissy ass. The matching bra is put on next and it is filled with silicone falsies. I now place you in a chair where I have the girl from the nail shop give you a pedicure to match your pink panties. Oh look at you blush, stiff in your girl panties and embarrassed to have the pedicure girl see you like this. You should really be more ashamed that even though you are fully erected, the panties still cover you completely. You are not even long enough to pop out the top of the panties with a hard on! Now she moves on to your fingernails and does them with a matching pink as well. I have you put on a very girly floral print pair of leggings and a cute matching top. Next up comes your 4 inch pink high heels. Yes there open toe in the front, your toes are just a must see, as I bring you over to the makeup mirror, you know what's up next and this is already gone further than you ever have and you try to refuse me.
I now place you over my kitchen table and taught a lesson where I whack your ass with a paddled,  over and over. You will listen to Miss Candy, Sissy boy, whack that is right the nail painter is paddling your ass and laughing at you as she does it. Those pretty little girl leggings are not offering you any protection against my paddle. Your ass is on fire as a tear rolls down from your eye. I now tell you to go sit at the vanity mirror as you hustle over to it in your pink heels like a  little school girl late for the bus. Listen to that feminine clicking from the heels on the floor. You are now made up with pretty pastels and girly sissy colors. Your lips are a super glossy shade of pink that is matching your heels. I don't want to put a wig on because I want everyone to know it is you and you are a sissy who has no control at all.
Candy
1-888-430-2010
Click HERE to chat with the phone sex mommies
#SissifactionPhoneSex #Sissy #Feminization