Cuddle with Nanny Ella
January 5, 2016


My New Baby
January 17, 2016
Dressing up my sissy adult baby is always so much fun. I just bought a new dress for *Fina. Her favorite color is pink. There was a time when I would never have been able to put her in a dress, but that story is for another time.
You see, I told her I had a surprise for her when I put her to bed the night before. She was so excited. She begged me to tell her what it was, but I told her she had to be patient. I told her she had to wait until morning. She must have asked me at least twenty times what it was while I told her a bedtime story. She asked me another two times while I pulled the blankets up over her in her crib and handed her her stuffed toy. She then asked me one more time as I turned on the night light and turned off the nursery light.
When I woke up the next morning, she was already awake and begging me for her surprise. I guess you can say Mommy was a little naughty for making Fina wait 'til after her diaper change, but I did. And it was well worth it.
After her diaper change, I went to her closet and pulled out her surprise. It was a pink, frilly, lacy dress that had two pink satin ribbons at the top. When Fina saw it, she smiled and screamed with excitement, thanking me. I dressed her in the beautiful light pink dress with a pair of black Mary-Jane shoes and frilly white socks, and matching pink ribbons in her hair (even though Fina's hair is short). She was so beautiful. Her face lit of with happiness when I showed her what she looked like in the mirror.
Dressing her up like a cute baby doll and seeing how happy she is when she looks so cute makes this ABDL Mommy's life complete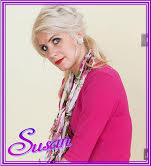 Hugs & Snuggles,
Mommy Susan
888-430-2010