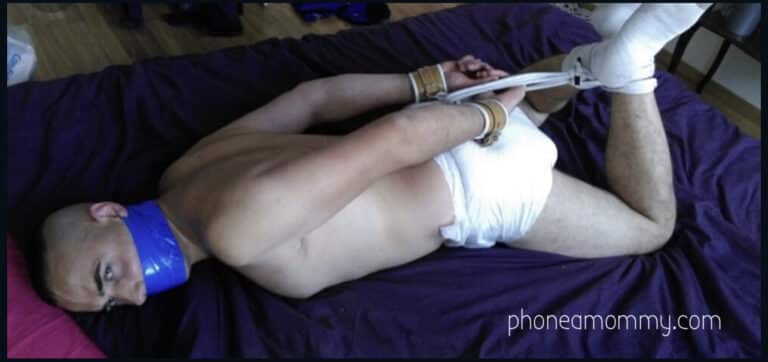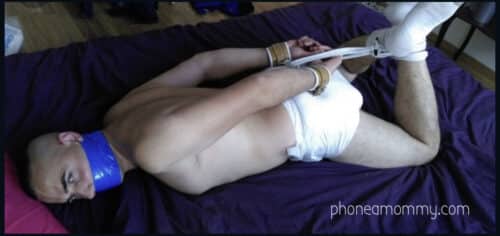 Mommy and me have a yummy surprise for my "baby" brother.  He doesn't know it yet but we have diapers for him, whether he wants them or not lol.  And if he's a very good baby we have another more exciting surprise for him.
We wait impatiently for him to get home so we can show him his fun surprises.  I giggle as I think about the look on his face when he sees the diapers and straps.  Soon we hear the front door open, mommy and me are in brother's bedroom, sitting on his bed with everything between us on the crisp sheets.
We hear his footsteps getting louder the closer he gets, I can barely contain my excitement.  Mommy shushes me just as brother walks in and stops shortly just inside the door.  He looks at us with a confused look on his face and asks us what we are doing in his room.  I look at mommy as she pats the bed between us for him to sit down.
As soon as he sits down, I start giggling and waving the diaper around to distract him.  Before he can ask what is going on, mommy pushes him down flat on the bed.  We quickly start to undress him of all his big boy clothes.  Once he's naked of everything but his socks, I slide the diaper under his bare butt.  As mommy holds him down, I powder him and close up his diaper.
Now time for the straps, a little diaper bondage to get brother right where we want him.  Mommy and I have been waiting for this day.  Once baby brother is all tied up and ready, me and mommy start teasing his diaper, rubbing against it with our hands.  Sliding all over his tense body, trying to help him relax as much as possible.
Mmmm I've seen your big peepee and I told mommy all about it.  And now we want to play with it.  The thought of family sex has me and mommy so wet.  I remove the tape from around baby's mouth and slide my wet pussy under his face.  As he opens his mouth to gasp for air to say something, I push the back of his head down, making him smash against my clit and I wrap my thighs and legs around his head holding him there.
Once we see he succumbs and is eager to play, mommy unstraps him and we sit him up and start stroking his hard peepee.  Incest sex is the best.  No one has to know, it will be our little secret.  Mommy and Baby Stacey will make your peepee drip and squirt.  After today I don't think you will have to be tied up anymore lol.
Lots of fun to be had with the diaper girls and abdl mommies at phoneamommy.  And so many to choose from.  You will never be bored and you will always be well taken care of.  And remember Baby Stacey likes it all!
1-888-430-2010
Click here to chat with a ABDL Stacey
#diaperbondage #familysex #incestsex #diapergirl