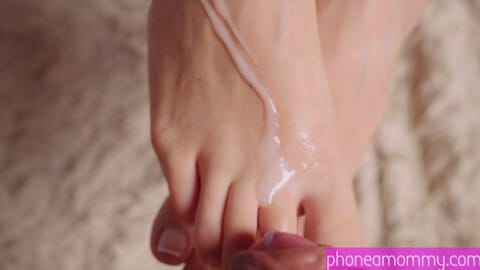 Brenda's Adult Baby Spills Jizzum On Her Toes: I am Auntie Brenda, and I am here to take care of you if you are an adult baby or you want to be one. It is not everyone who can take care of a person if they are an ab/dl, as infantilism is very special and only a select few know how to treat adult babies.
I will be the one to decide what brand and type of diaper you will wear, as it is important that your diaper fit your personality. If you are shy and an introvert, you may not want everyone to know that you are wearing a diaper, so a nice and quiet cloth diaper would suffice.
If you are a little more bold and brave and you like a little bit of shock to go along with your kink, then you will be the type of person who most likely prefers a crinkly diaper that makes a little bit of noise.
Maybe you used to steal the pants of your mom, aunt, or sister so that you could scurry away into hiding like a little mouse and sniff the crotch, then lick it out of curiosity to find out what different pussies taste like. No matter what you think, to me, that is the personality of a sissy, and you will need my guidance to help you along the way.
I am the matriarchal figure that you need in your life to direct you on the path that you need to go, and that is why you need to have me in your life to make sure that you are treated exactly the way that you deserve, according to your personality.
Don't get me wrong; there are times in which I totally go against the grain and do something so bold, so different, and so unexpected. I remember that I had an ABD, and he was instructed to wear a pantyhose underneath his clothes, and we went out to a restaurant. I then had him unzip the crotch of his pants so that I could take my perfectly pretty and peachy pink pedicured toes and rub them against his penis and his balls, as they were all compacted in the pants that he was wearing. He was instructed that he ought not to give away any clue to the restaurant attendees that he was being pampered by me by my foot. If he even moaned when he was not supposed to, that is when I would take my foot and moderately push it into his genitals as a warning.
He would have to sit in a manner that was professional and discreet, and I would use my toes to jerk him off as my toe would peel the pants to the side, and when he was told to cum, I could feel the jizzum dribbling down my toes. He would then be told to intentionally drop a napkin by the table, and when he bent down to retrieve it, I would have him use the napkin to cover his face momentarily as he licked his own cum off of my toes, partially under the table in the restaurant.
Call me now if you also want to experience this role-play fantasy. Click Here
Aunt Brenda
888-430-2010