Thick Abdl Diapers Are The Best!
April 19, 2020


Sissy Baby Embarrassed In Public
April 23, 2020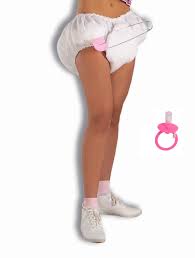 It was late at night and I knew that my adultbaby was in the crib, locked down, with a heavy wet diaper. I could hear her sissy little cries coming from the nursery. I put her down to sleep in the cutest little jammies you could image. They were very elaborate. Soft silky pink material and gold thread forming intricate designs. This set of jammies to me longer to make than any other I had ever sewn for my little darling. They don't make sizes big enough to fit her. So, I do all the work myself, by hand just to show my little one how much I love her and love being her mommy.
I was just so tired, and it was nearly dawn. I thought it was best just to wait until the alarm went off so I could keep her on schedule. I don't want to have to deal with a baby that did not get enough sleep the night before. I thought about how I should have double the diaper the night before just to keep her from wetting the sheets. Nothing makes me madder than to find that she got into the fridge. She is always getting in the fridge to drink more just than she should. I don't like it. She wakes up to wet. If I find that she leaked her pee pee onto the sheets. I will know that she drank more than I had given her. It makes me so angry when she takes whatever she wants. She is disobedient and deserves to be punished for drinking juice behind my back. At the very least it is stealing. I can't rest with these thoughts on my mind about my ABDL Stacey. I get up and go over to the fridge: the whimpers from the crib become louder. I open the door and the whimpers become wet muffled cries. There is a bottle of milk missing from the fridge. I walk over to the crib and there hanging from the wall are paddles, belts, razor straps, and leather gloves.
I raise up the blanket to look underneath and see a small puddle next to her bottom. The order reaches my nose. And all I can think is what color red should I make her little ass.