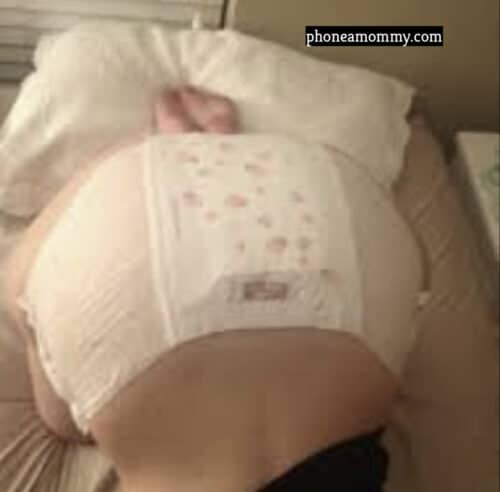 Amanda's green elf costume This was a little too small and inappropriately snug around her lithe frame. The bustier-style bodice was low, encasing her bosom so tightly that the tops of her breasts were spilling over the hem. The skirt was short and flared, with a white fur trim. When she stood still, the folds overlapped, so it looked like a decent-enough skirt. When she walked or bent over, however, the material shifted and swayed, showing a little of her pull-up diapers. "You were great with the kids tonight, Daddy," she told Santa as they loaded the storage shed, which housed most of the Christmas decorations. "You had every single one of them laughing their heads off." It was a little after 6 p.m., and this year's Community Carol ended half an hour ago. Many of the kids and their parents had since vacated the recreation center, leaving behind a handful of people still milling about the premises. Richard held the door open for Amanda, and she flashed him a thankful smile. Inside the storeroom, she set the box of marbles down on the bottom shelf, taking her time to stick her ass in the air in Richard's direction. She stood upright after a short while and turned to see her father lingering by the door, clad entirely in his own Santa costume, the small box of tiny gnomes clutched in his left hand.
Amanda noticed the dazed look in his eyes and the prominent bulge in his velvet pants. "Santa!" She gasped, feigning astonishment. "What were you looking at?!" Richard blinked, unfazed. "They seem to have made that costume too skimpy for you, honey." "I don't mind," Amanda shrugged one shoulder. "Mr. Abernathy and his friends all seem to love it." She went over to him and retrieved the box from his hands. Sashaying back to the pallet rack, Amanda lifted her hand, tapping her index finger on her bottom lip as if in thought. "Hmm. Now, if I were Santa," she said, "where will I hide my flask of whiskey?" Richard scoffed. "I'm not sharing alcohol with you, young lady."
"Aww…" Amanda whined, pouting. "Please, Daddy, just one swig.. "Please, Daddy, just one swig." Now, come on out, so I can lock up." Amanda crossed her arms under her chest and did not budge. Then she pulled out one of the milk crates from the rack stacked near the back of the shed and sat on her butt, knees pressed together, feet far apart. Her chin came to rest on the palm of her hand as she stared expectantly at Santa. If he'd looked under her legs right now, he'd get a good look at a wet diaper. Richard sighed and produced an ebony hip flask from his concealed pockets. "I suppose one swig wouldn't hurt." Amanda's face lit up. She pulled out a second crate across from hers and patted where she wanted Richard to sit. He sat down, offering her the flask. "Ugh… That's some strong stuff." She coughed as the liquid burned the back of her throat, spreading like hot tendrils across her chest. She offered the flask to her father and teasingly said, "I thought Santa Claus doesn't drink." "Oh, he does," said Richard, joining in on the satire. "He deals with little kids." All-day. I think you will find that Santa Claus is secretly a bit of an old drunk in his spare time." That made Amanda laugh. "I have a secret of my own, too," she said softly.
"Tell me." He couldn't keep his eyes off her legs, which showed through the skirt panels.
"Erin had the tailor sew my outfit this way. He thinks it might get us even bigger benefactors this year."
"Erin, the event manager?"
Amanda nodded, taking another swig. "But honestly, I just like the way it looks… and judging by how you've been looking at me all day, you like it too." Richard combed his hair with his fingers and sighed. "Don't try to deny it," Amanda continued, giggling, "Santa suckers at lying, and Daddy even more so." "You reckon putting me on the spot is going to be good for you, little lady?" "Maybe," she answered. "I mean, do you like how I look when I bend over, Daddy?"
Click right here to see what Daddy does!
Naughty Amanda
1-888-430-2010
#incest #ddlg #daddydaughterkink #incestkink