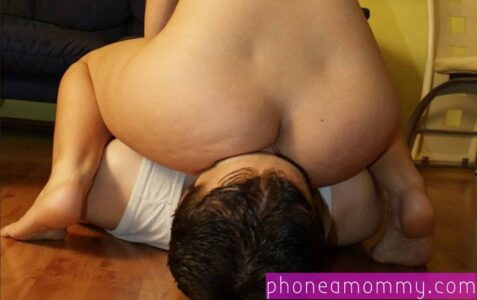 (First part) I pushed his face into the puddle of cum to lick it clean as I spanked his bare bottom with my hand. "It's time to get up, Rodney!" I barked.
"You need to clean up this mess you made!" I felt his warm body pressing against mine as he moved closer, his erection pressing against my thighs through my silk house robe and nightie. I could feel his desire for me pressing against my thighs, and I knew I had to do something about it. I hadn't been spanking him for more than twenty seconds when I felt his body quiver, and he released all over my thighs. Damn! I cursed. I was determined to teach him a lesson about self-control. I pushed him down to his knees and scolded him for making such a mess of my nightie. I then instructed him to lick my thighs and the front of my panties until satisfied. He slowly complied and started licking my thighs and the front of my panties. His tongue felt warm and wet as it moved up and down my thighs and around my panties. His tongue was gentle and slowed as if trying to please me. He licked my panties from top to bottom and then around my waistband. His tongue moved in circles, up and down, and then around again. I felt a sensation of pleasure and warmth radiating through my body as he continued to please me. His tongue moved faster and faster, and I could feel my arousal increasing. His tongue felt like a gentle massage as it moved around my panty. I felt my body tensing up as he moved his tongue faster and faster. His tongue felt like an orchestra playing in harmony with my body as he brought me closer and closer to the edge of pleasure. Finally, I felt a wave of pleasure wash over me as I climaxed. My body quivered and shuddered in pleasure as I felt warmth and pleasure coursing through my veins. He licked until I was delighted, and I felt the aftershocks of my orgasm radiating through my body.
 After a few minutes, Rodney stood up, his face red with embarrassment. I wanted him to learn more and put him in a chastity cage. The chastity cage I used was made of stainless steel and was relatively small. It was designed to fit snugly around the genitals, with a narrow opening at the top to allow urination. The cage was secured with a padlock and had a small ring attached to the bottom, which I used to fasten a chastity belt. The chastity belt kept the cage in place and prevented the wearer from removing it. The chastity belt was made of leather, with several straps that could be adjusted to ensure a secure fit. It also had a built-in lock, which I used to make sure the wearer could not remove it. I told him it would stay that way until he could learn self-control. I then walked away, feeling satisfied that I had taught him a lesson and that he would be more careful in the future.
Aunt Brenda
1-888-430-2010
#humiliation #incest #incestkink #spankingfetish