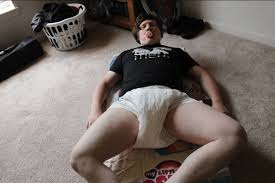 Mommy Amanda Gives Sissy Slut Training: Mommy Amanda has enjoyed playing with all her little sissy babies this weekend. There's nothing mommy enjoys more than playing with her babies. It's been so much fun to play dress up, getting my little girly sissy babies to wear pretty pink and purple diapers, cute little ruffled pants, and frilly lacy socks. They enjoyed every girly moment, and so did I. Some of my sissy babies like to plug their little buttholes to keep from making a mess in their diapers, and they go crazy over the feeling of pulling the plug out of their holes when I tell them to. They love the way it feels. They say it's the best feeling in the world, and they want to feel it all the time. My little sissy babies really like to get themselves ready for when Daddy comes home and wants to play Daddy/sissy baby games with them.
When Daddy comes home, he likes to play with my little sissy babies immediately. He looks forward to playing fun games with them all day when he's away at work. My sissy babies love to make their mommy happy, and they know how happy it makes me to see daddy play with my little sissies. He likes for me to have my sweet little sisters cleaned and ready for some big-daddy fun as soon as he walks in the door. My sissy babies know that they have little wee wees, and that's why they are in diapers and pants. They know they belong in diapers and pretty sissy pants because, of course, they could never be a man like Daddy. My sissy babies get excited when they make daddy excited. They look at the smile on his face and look down to see that big bulge in his pants grow. It makes their little wee wees stand up in their diapers and pants. They love the way daddy's big cock feels when they put it in their mouths; they love the way it feels when it grows; and they love getting it all wet and ready for their little pussyass holes.
Mommy Amanda gives all her little sissy babies the proper training for sucking daddy's cock. She shows them step by step how to be good, sweet, little cocksucking sissy babies. Mommy Amanda's sweet little sissy babies in training love to do a good job and make mommy and daddy very happy and proud.
They get really excited when they know it's time for Daddy to fuck those little sissy holes. They get on their hands and knees and push their diapers and pants to the side, then scream and whine like little sissy b*tches when Daddy shoves them in. But my sissy babies know how to take a cock. Mommy Amanda has trained them well. They are good, obedient little cocksucking sissy bitches. And Mommy Amanda is so proud of them.
Do you need to be trained into a little sissy slut? Click Here
888.430.2010