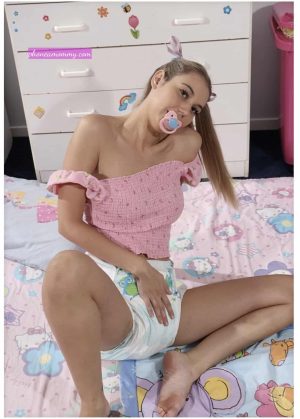 Amanda and Judy had heard about each other a lot, and they had seen each other through video calls but never had the opportunity to meet face-to-face until Amanda's aunt, Brenda, arranged for a playdate. When her and Judy's mother, Alice, schedules aligned, the
two adult babies were finally able to meet. Amanda couldn't hide her enthusiasm when Judy walked through the door! Alice removed Judy's shorts and let her comfortably walk in
her nappy and t-shirt, which matched Amanda's attire. Amanda waved shyly at Alice, and once allowed, she grabbed Judy's hand, and they waddled off together to the playroom.
The playroom was fully babyproofed and equipped with some big baby-sized furniture, so Amanda and Judy would be very comfortable no matter what they did. Once inside the room, Amanda and Judy got on all fours and started crawling.
Amanda quickly grabbed her favorite teddy bear and showed it to Judy, who giggled and grabbed a wooden train toy.
Amanda playfully tried to take the train out of her hand and, in the little tussle, squeezed Judy's boob with her hand, and when Judy moaned, Amanda continued to play with her boob.
Judy trying to get at her, squeezed Amanda's boobs with both hands under her t-shirt and bra. Amanda yelped and tried to do the same, but Judy kept evading her advances until, with her back to the wall, Judy finally removed her t-shirt.
Judy, whose hands were still near Amanda's boobs, unhooked her bra and, when she tried to get away, pulled her t-shirt over her head, leaving Amanda naked with only her nappy on. Judy giggled, but seeing Amanda down, she let her remove her bra. Their breasts rubbed on each other as they giggled and continued playing with each other.
Judy grabbed Amanda's teddy bear and played with it while Amanda nibbled on a teething toy and played with a xylophone. Judy, wanting a teething toy for herself, looked around for one.
When she couldn't find one, she crawled closer to Amanda, but her hand was smacked away.
Judy tried again, and even after having her hand slapped away again, she could grab the toy and right after bite it. Their lips touched, and they stared at each other, drooling.
Amanda quickly pushed Judy down and, throwing the toy away, gave Judy a peck. They continued to kiss clumsily until their timing matched, and they adjusted their hips, so their diapers rubbed each other. Judy fondled Amanda's boobs again and tasted her,
slobbering her hard nipples. Amanda moved her hips, relishing the sucking and nibbling on her nipples, and soon after, she repaid the pleasure. Judy wrapped her legs around Amanda, yearned for more, and rocked their hips together, kissing and playing with each other's boobs. Amanda's and Judy's pace increased as their breathing became shallower and unwilling moans escaped their throats until they came together. They nuzzled their noses together, planting small kisses, when giggles brought them back to reality.
"I liked this small appetizer. Hope the main dish is longer," said Brenda leaning against the door while Alice laughed.
"Next time, you and Amanda should come over so we can enjoy the show there, too," teased Alice. Both girls giggled along shyly.
Diaper Girl Amanda
1-888-430-2010