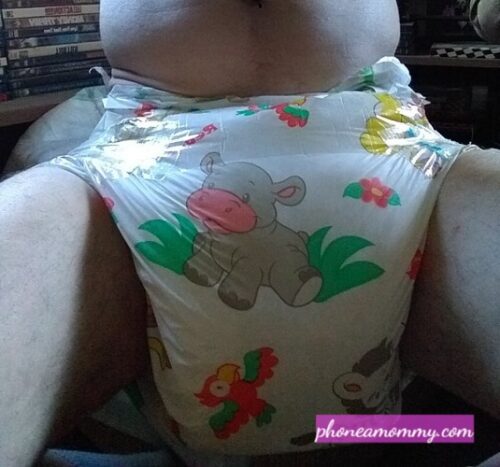 Amanda Has Some Kinky Diaper Fun: Amanda woke up slowly, blinking her eyes against the sunlight streaming through her window. She stretched out a little, her arms and legs reaching out, and noticed with the movement that her diaper was soaked, thick enough from her nighttime tinkles that her lower back couldn't even touch the bed! She laughed a little and pushed down against her diaper, enjoying the way her bottom sunk into it and the feel of her pee leaking out of the diaper against her skin.Her pussy started to tingle, and soon enough her hand was pressed on the front of the diaper, squeezing and pushing it between her pussy lips, sliding the wet material over her clit. There's nothing wrong with a little diaper masturbation in the morning!
She wiggled around in her super-wet diaper and was enjoying herself so much that she didn't hear the footsteps coming down the hallway and didn't notice anything until Daddy Tony appeared in the doorway. She looked over to see him standing there, arms crossed, one eyebrow raised at her antics, and she froze with her fingers pressed deep into the diaper. She wasn't supposed to play with herself until Daddy told her that she could! Amanda pulled her hand away, her lower lip already starting to wobble with guilt at getting caught doing something naughty and frustration at the thought that she wouldn't get the chance to say anything.
Daddy Tony walked over to her changing table, and when she saw him pull open a particular drawer, she started to cry and fuss.
"No, Daddy, I won't do it again; I'll be good! I don't want a spanking," Amanda cried out, tears running down her cheeks. Daddy didn't seem to care, walking over to the bed with a long, inch-thick wooden paddle held in his hand.
"Get on your hands and knees," he said.
Amanda did just that, still crying, though she stopped when Daddy pressed the paddle between her legs and pressed upward. She didn't even try to hold back her dirty little moan.
"It still amazes me how strong your diaper fetish is," he said with a smirk. "It's almost mean of me to tell you that you can't touch yourself without my saying so. But rules are rules, and I already told you what I expect of you. Breaking those rules leaves me having to punish you, isn't that right?"
"Yes. Yes, sir."
The paddle lifted up against her diaper a little bit more. "But your pussy is still wet and throbbing from your diaper fetish, correct?" Amanda could hear the smirk in Daddy's voice.
"Yes, sir…" Amanda heard desperation in her voice. She almost started crying again when he moved the paddle away from pressing against her.
"Push your hand inside of your diaper and play with your pussycat for Daddy. You will poo in your diaper or not at all."
Amanda didn't think twice and pushed her hand down her diaper so fast that she ripped the edge a bit. There were a few glorious seconds that she forgot about the paddle, right until Daddy brought it down her a**. She squealed, moving to pull her hand out of her diaper, when he put a hand on her shoulder.
"This is also how you will cum. In your diaper with me giving you the spanking you deserve. Understand?"
"Yes, sir!"
"Then touch yourself."
She did exactly that, playing with her wet pussy while Daddy brought the wooden paddle down on her ass more than hard enough for her to feel it through her wet diaper. Every time she felt that impact, it rocked her fingers against her pussy even more, and Daddy Tony hadn't spanked her more than eight times before she was cuming in her diaper with guttural noises, her body arching and her head thrown back as she gushed her creamy pussy juices inside of her diaper.
That gets you going? Call me anytime for some ageplay phone sex! Click Here
Amanda
1-888-430-2010