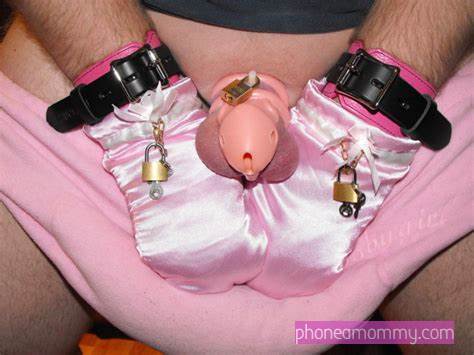 (first part) Brenda gave the diapers another squeeze and judging by the way her new sissy's hips rocked forward, Evelyn was enjoying this more than she wanted to say. She let go, walking back to the chair to take a seat, watching Evelyn's face go through a variety of expressions, lust and anger and embarrassment and all the variations in between. She wanted to say something so bad it looked painful, her mouth kept opening and closing, but she remembered she wasn't supposed to speak. Brenda watched her with amusement. "Right now, I am your Aunt Brenda and you are my silly sissy. When you are in your sissy dresses, your name is Evelyn, not anything else. You will listen to any instructions that I give you, understood?" Evelyn gave her a sulky nod. "Wonderful! Now, I want you to get more comfortable in your attire, dear. I am going to sit right here and watch while you slide your hands across yourself, stroking the heels, those thigh high stockings, that thick diaper… I want to watch you flush even redder; I want to see the impression of your clittie pressing against that diaper as you get harder." Brenda raised an eyebrow at Evelyn when it seemed for a few seconds that she wouldn't listen. "No dawdling with instructions, that's also against the rules." She was stiff at first, not used to being watched so closely, especially not dressed the way she was, but it didn't take long for Evelyn to loosen up and put on more of a show for her Aunt Brenda. She might sulk and pout, act like she was only doing this because of the blackmail, but they both knew this was what she wanted. Evelyn wanted the humiliation, she wanted to be sissified and told what to do! She smoothed her hands up her legs, visibly loving the feel of the stockings gliding against her skin. She scratched her nails along the diaper to hear it crinkle, and rubbed her palm right over Evelyn's clittie, pressing the diaper there hard.
"Stop there, dear. I don't want you coming without permission." Aunt Brenda dipped a hand into her purse, and to Evelyn's shock she pulled a pair of fur lined handcuffs out of it. "Kneel and put your hands behind your back for me." Evelyn followed her instructions, Aunt Brenda getting behind her to put the cuffs around her wrists, and she couldn't hold back a filthy moan at pressure she felt. Aunt Brenda chuckled as she stood in front of Evelyn, one leg held forward, her foot nearly between Evelyn's knees. "I had a feeling that you would enjoy a bit of diaper bondage as well. You've been hard since you walked in here, dear, I'm sure you'd like to relieve that pressure…. I want you on your stomach, kissing the tip of my shoe. You may come from humping your diaper against the floor, that is the only way that you are allowed."
I bet it wouldn't take long for anyone to come like that! Why don't go to the phoneamommy chat room for some incest chat and call me for some abdl sex?
Aunt Brenda
1-888-430-2010
Click Here to chat with a phone sex mommy!
#abdlsex #incestchat #diaperedsissy #diaperbondage