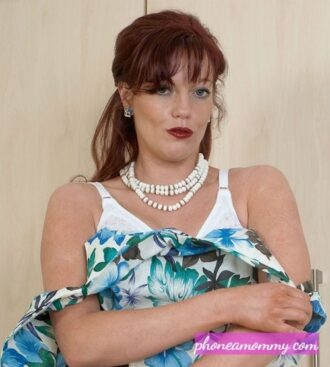 (First part) Brenda moaned deeply, one hand lifting up to curl her fingers through his hair to tug him closer, her other hand still around his throbbing cock, squeezing and stroking and sliding her thumb across the tip to smear his slick precum on every thick inch of his cock.
Charlie soon rocked his body against Brenda's, pushing her to her back while he covered her body with his. He let her nipple pop out of his mouth so he could lean up to cover her mouth with his, Charlie's tongue curling with hers as he wrapped his hand behind her left knee and moved her leg up against her chest. He pulled away from the kiss and whispered so closely that their lips still brushed against each other. "You want my cock, don't you, Mother? Your pussy is throbbing and hot, and the only thing that will make it better is your son's cock." It was Brenda's turn to blush when he said that, but she didn't look away as she tilted his cock in her hand till the tip nestled against her pussy, barely pushing into her swollen hole. This is what she came for, after all. "Fuck me, Charlie. I want to still feel your cock inside me tomorrow."
His hips jutted forward, spearing his cock into Brenda's soaking wet cunt, and they both moaned at the feel of her stretching to take his girth. It burned a little bit for both of them, but it blended into the pleasure and gave it that sharp edge that had them frantic for each other. She'd kept up with him at first, her hips rocking to meet his, but soon enough, he was fucking her hard enough that her whole body shook, and all she could do was hold on. Brenda soon had both legs wrapped around his waist; her arms lifted over her head to brace against the wall as Charlie pounded her pussy. The only thing heard in the room was their moans and cries and a filthy wet squelching as Charlie fucked his mother into the mattress. He ground his pelvic bone against her clit, rubbing until she was shuddering against his body. When he scraped his teeth across her nipples, she came hard around his cock, pulling his orgasm out of him, the shock of it curling his toes before he realized it was coming!
He collapsed to the side, pulling Brenda's limp and satiated body with him, one of his thighs pressing between her legs to feel her pussy pressed against his skin and one of his hands reaching over to cup one of her flushed tits. All it took was a little tweak of her nipple to have her shivering and rocking against his thigh. Charlie smiled in pleasure and the idea that she would be this cock hungry the whole weekend they had together. Dad was gone, and he wanted to have made his mom scream from pleasure in every room by the time the man was back.
Aunt Brenda
1-888-430-2010
#incestkink #mommysonsex #incestphonesex #mommykink