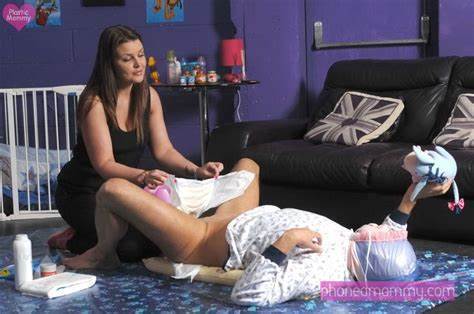 Tim sat cross-legged in his playpen, stacking his wooden blocks into towers and blocks to get ready for his cuddly teddy bear to come rampaging through and knocking them all down. Once he was bored with that, he laid down on his back and kicked his feet up, still playing with his teddy bear and playing with his toesy-woesy's as he listened to his Aunt Brenda fussing about in the kitchen getting lunch ready. Her soft humming relaxed him so much that he started nodding off, rolling over onto his side to curl up and suck on his thumb. Tim drifted into that comfy half dosing state, lovely dreams of playing with his toys with Aunt Brenda dancing through his head. He was startled awake for a few seconds when he could feel the back of his abdl diaper fill up, but the warm squishiness of it put him right back under!
He was woken up again with a few gentle nudges against his shoulder, Aunt Brenda bent over the side of his playpen with a smile, telling him that it was time for stinky babies to hop up for a diaper change! He whined and stretched a bit, not very happy from having to get up from his nap, but she finally got him out and shuffling over to the changing pad that she had laid down for him. Wasn't too much more than a minute before she had his dirty diaper off, cleaning him up and making him giggle with the silly faces she made over his stinky mess! Soon enough he was sparkling clean and powdered up, and new crinkly diaper taped up nice and tight. She booped his nose and told him that since he'd been such a good baby all morning long, she would let him choose what he wanted for lunch that day, some Beech Nut baby food or some yummy warm breast milk. It took less than a second for him to decide what he wanted the most!
Aunt Brenda sat down on the couch and Tim got himself situated with his head in her lap, watching while she unbuttoned her blouse and pulled her bra cup down. He leaned up just a bit, her hand underneath his head as he opened up wide and starting to suck like a good baby should. Warm, tasty milk flooded his mouth and he swallowed mouthful after mouthful. Aunt Brenda fondly fussed at him for a being such a messy baby while she used his bib to wipe the little bit of milk that was trailing down the corner of his mouth. Soon enough he was nodding right back to sleep, safe and warm and full. She slowly eased his head out of her lap and onto the couch, still humming and telling him to have sweet little baby dreams. Doesn't that sound like a lovely way to take a nap? Why don't you call me for some age play phone sex to tell me how much?
Aunt Brenda
1-888-430-2010
Click Here to chat with a phone sex mommy!
#abdl #adultbaby #ageplay #infantilism #abdlmommy #abdldiaper