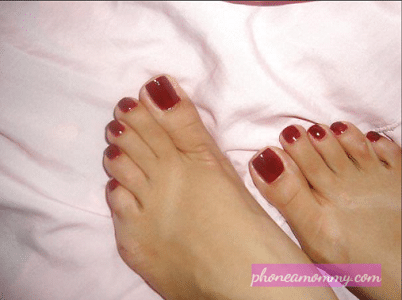 isa was on her knees in front of Brenda; Lisa was now Brenda's new sissy. Finally, so much training time had made Lisa the perfect slave to play with. She had left behind her life as a man to be Lisa, an obedient and submissive sissy who loved pink. Today she wore a pink dress and white striped stockings, pink heels, and pink panties that squeezed her little clitty. "My little slut, let's see how much you've learned from your training."
"Y-yes, ma'am!"
"Now, you can start, beg me on your knees, ask me for what you want."
"P-please, my lady, please let me suck your feet; I desire them with my whole body. The thought makes my little clittie get so hard under my panties!"
"You still need to convince me; maybe you won't get your prize today.
"NO! Please let me suck your beautiful feet; I swear I'll be your slave for life. I'm dying to lick every drop of sweat your feet have!"
"Good, my little one, now you've convinced me… Go ahead; they're all yours…"
Brenda moved her sock-covered feet towards Lisa; she quickly approached them and, with her mouth, removed her sweaty socks from Brenda, revealing her feet still warm from all the sweat that Brenda had accumulated, especially for Lisa. Lisa didn't wait a second longer and began to carefully lick every inch of Brenda's right foot, licking between her toes and taking with her tongue the beads of sweat left between them. Her tiny clit was beginning to peek out from under her pink panties as she did so. Brenda lifted her foot and pressed it against Lisa's face, instructing her to lick the sole of her foot until it was spotless. Once Lisa was done with the right foot, she went straight to the other foot, again licking between Brenda's toes, taking every drop of sweat she could with her tongue and cleaning every inch with her tongue. Brenda could see how Lisa was close to cumming, so she pulled her feet away from Lisa's face.
"I can see your little clit coming out of your panties…."
"Y-yes, ma'am, please, I ask you to let me cum with your feet…."
Brenda just looked at Lisa and ordered her to open her mouth as wide as she could, she obeyed, and quickly, Brenda put her foot into her mouth, making Lisa gag on her foot, and while holding her breath, she tried to keep licking her foot. Brenda permitted Lisa to touch her clit, and she obeyed, desperately searching for her little clit. She grabbed it hard and just held it for two strokes; in an instant, she had already cum on the floor, releasing all her cum on the floor. Lisa apologized to Brenda for cumming so fast. Brenda looked at Lisa and ordered her to clean up all the mess he had made on the floor, to which Lisa complied without hesitation; using her tongue, she lifted all of her cum, swallowing it and thanking Brenda for her meal.
Aunt Brenda
1-888-430-2010