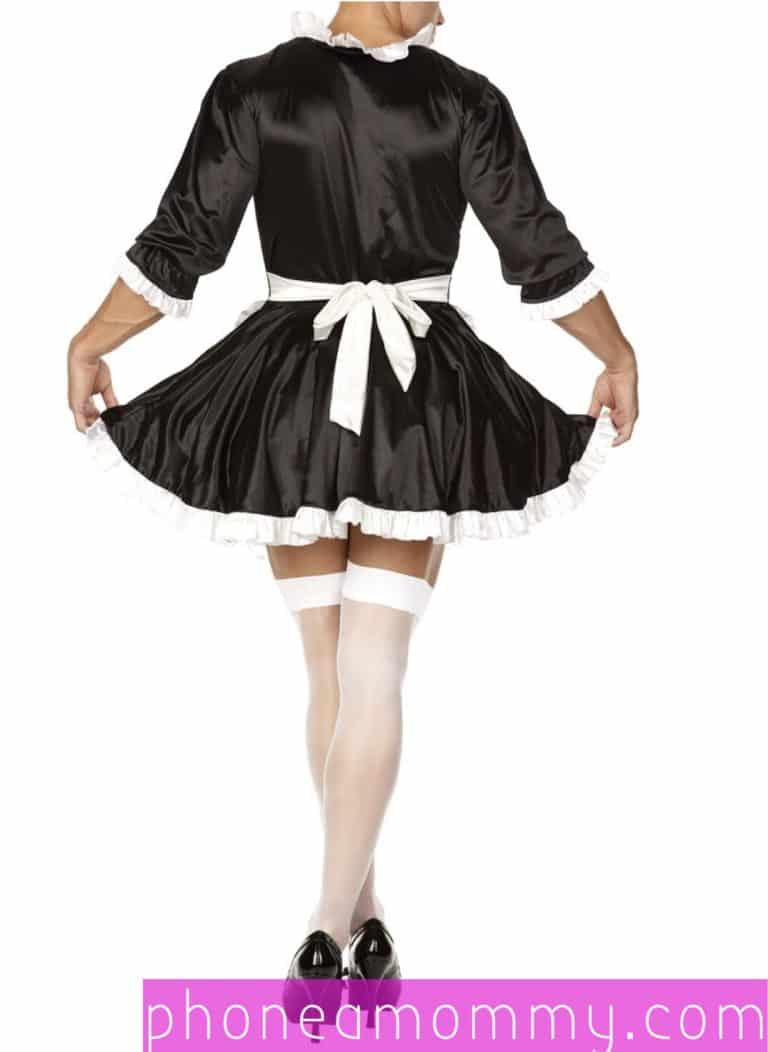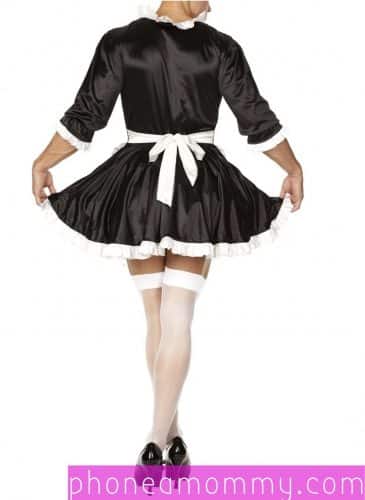 My stepdaughter and I walked into the house a few hours early because the store that we intended on patronizing closed early for the New Year. Usually I call ahead to ask her father what he wants me to pick up to bring he with me but this time I forgot.  We had our sneakers on to shop because the last time we went shopping in our heels we both felt it once we got home for the night.  The sneakers were the reason that Al did not hear us when we entered the house.
We both walked in on Al wearing my red heels, red panty and matching bra. He stood frozen for a few minutes shocked that we both saw him.  My stepdaughter immediately started to laugh at him and he tried to take a paper plate to cover himself up and I told him not to.  I told him that from now on he will be our little sissy maid and he will be dressed in bras, panties and French maid outfits in the house from now on.
I took him to my closet and while his daughter watched I had him undress in front of both of us and I dressed him in a sexy black and white maid outfit.  It was pretty and frilly and satiny and he looked so lovely in it.  Afterwards I took some black high heel pumps from my closet which I was supposed to return to the store because they had delivered the wrong size, but for Al it was the perfect fit. I made him wear the heels with white thigh high stockings.  I also told him that I am going to change his name to Alia and he loved it.  He was now living his true self without forced sissy maid training, because this is something that he naturally and voluntarily wanted.
I made him get on his hands and knees and scrub the floor and then dust the furniture. He had to do the windows afterwards and then he was told to wash the dishes.  My stepdaughter and I had tired feet so we gladly sat on the couch so he could give us the foot massages that we both deserved.  I also commanded him to prepare us lunch and he did so with no hesitation.
Having a husband as a submissive sissy to dress up like how I wanted and to do whatever I wanted is what made my cunt so drippy and wet.  I made him prepare a  bath for me and he gleefully did and as my daughter watched, I had my sissy husband soap up my pussy, tits and ass in the tub with a sponge.  The more he manipulated the sponge on my pussy the more I leaked out juices from my cunt.
I felt myself disappearing into an intense world of passion.  He gently stimulated my clit and I told him to keep rubbing it more and as I felt that I was at the point of ecstasy, I screamed to the top of my lungs and shot cum from my cunt directly into the tub.
1-888-430-2010
Click Here to chat with a phone sex mommy!
#MILF #abdlmommy #sissyfetish #mistressforsissy #abdlmommy #crossdressingsissy #sissy #sissification #forcedsissymaidtraining #dommemilf