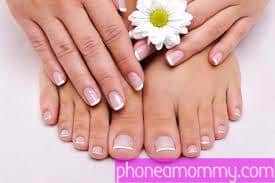 The snow just started falling and I wanted to use this moment to try something new with my diaper boy.  We were high up in the Catskill Mountains in a cabin and it was nice and warm and as we sat around the fireplace, drinking hot chocolate and looking at the snow fall gently to the ground.  I told him to focus on how slowly the snowflakes fell and then to clear his mind of anything that does not need to be there.
I told him to now close his eyes and imagine that the now was there to bathe away all of his stress and that the falling snow was his stress just dropping off from him.  I expressed to him that when he felt free and less burdened that he should do the first thing that came to his mind with no hesitation and he opened his eyes and asked permission to massage my feet and I gave him a thumbs up and he started massaging my tired feet with his big hands.
I love having every single one of my toes, the balls of my feet and my calves massaged.  The way that my diaper boy uses both hands to knead into my kinks and break down any tension in my feet is just what I need. As he massaged his feet, he gave me his undivided attention.
It means the world to him to pamper his abdl mommy and I surely appreciate every second of it. As he massaged my feet I had him stare at the fireplace now. I wanted him to focus on the fire and it's crackling sound, the colors and the heat that emanated from the fireplace. As he watched the fire crackle and dance with a mix of orange and red colors, I told him specific triggers to get him to do my bidding.
His subconscious is a vacuous receptacle for me to pour into it, whatever I wanted and whenever I wanted and I freely use abdl hypnosis often to direct his mind with hypnotic methods.  I throw out the trigger word "lollipop" which is a trigger for him to suck my toes like a lollipop and he opened his mouth and started sucking each individual toe stating with my big toe.
I told him the words "mash potatoes" which means he would make enough space for me to use the same toes that he sucked to mash his genitals and move my foot back and forth to stimulate his erection. Then after he was hard as a rock, I would use the word "selfish" which meant that he would be selfish and actually contort himself in order for him to suck his own cock.
It is such a wonderful thing to have an abdl with the flexibility of an acrobat to be able to bend forward, separate his legs and put his own cock into his mouth and suck it.  This erotic and sexy story does not end here, it actually continues – but on the phone. So if you want to have some hot and sexy abdl chat and find out what else happened in the Catskill Mountains, stop hesitating and give me a call.
Scarlet>
1-888-430-2010
Call Mommy abdl!