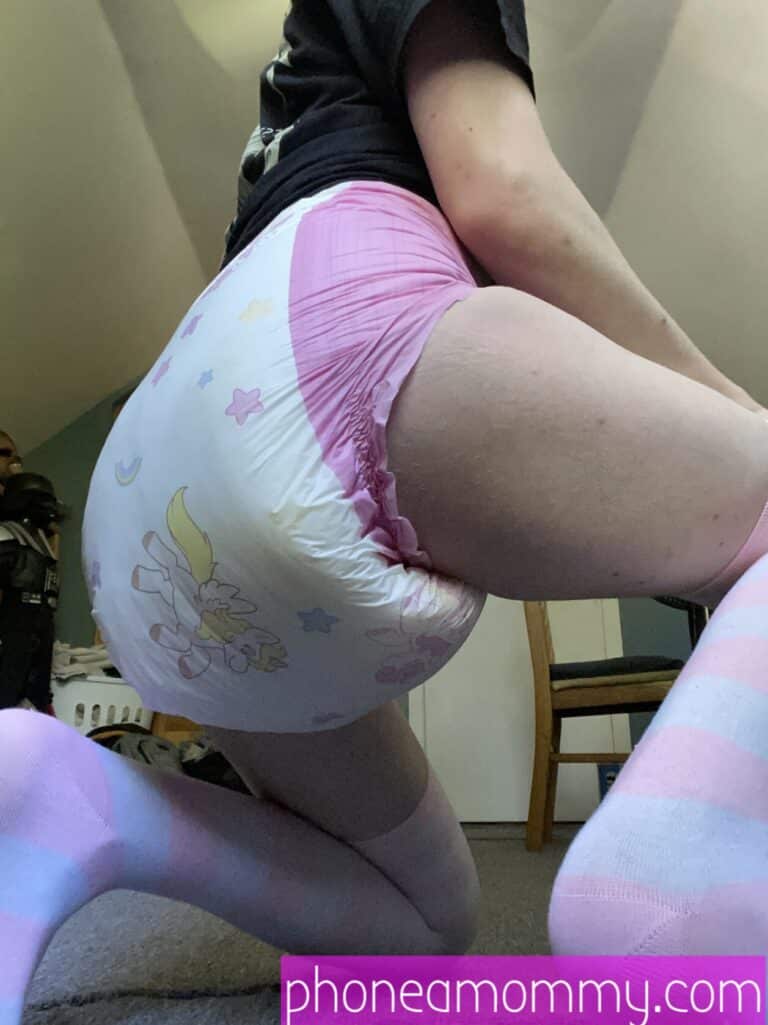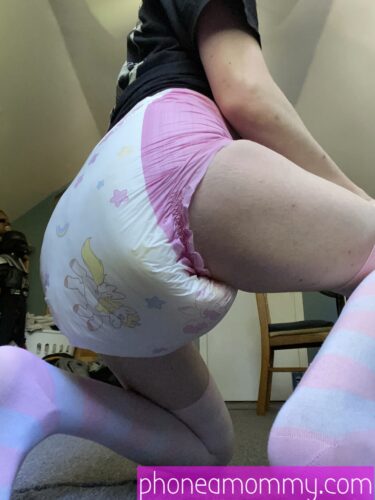 Adult Baby Diaper Lover Brennon called me for the first time on the phoneamommy sex hotline and he was obviously very nervous.  He had a plethora of fantasies and fetishes that he wanted to talk to me about and he was rather ashamed of them.  I made him tell me where he was in his home and he told me that he was in the kitchen and I told him to move to a room where he would be more comfortable.  He moved to the bedroom and laid on the bed.  I asked him what he was wearing and he told me that he had on a diaper as he loved diapers and there was a reason he called while wearing the diapers.
I asked him to share with me why he had the diapers on and he told me because he loved the way that they feel and he loved feeling like a baby.  Wearing the diapers allowed him to age regress and be the baby that he always wanted to be. When he engaged in phonesex it allowed him to let his hair down and really be himself.  Then I asked him to describe to me the status of his diaper and let me know if it was wet or if it was dry and he told me that the diaper was wet.  I wanted to know how it felt against his smooth skin and how long it was wet and he told me that it has been wet for hours and he was sure that his tight balls and his flaccid penis were wrinkled as his genitals felt a little sore being wet in his pissy diapers for hours.
I told him that he would soon have permission to change his diaper, but not until I got him to force out a big poop first in his diaper.  He told me that he did not have to go and that is when I told him that I will make him go.  I told him to order a fleet enema via an instant same day delivery site and as we spoke – within 20 minutes of placing the order the enema arrived. He lubed his asshole and I had him insert the enema and release the water until it was emptied into his bowels and he was instructed to hold it until further notice.
As we spoke he started to moan and grunt as the knots in his stomach tightened and his bowels were fully ready to be released into his diaper.  He begged me to release his poop but I told him to hold it. He panicked and was so anxious that I could tell that he was sweating and panting behind his phone line.  I wanted to have poop sex with him and I wanted it to be good. When I decided that it was time to have all of his bowels be released, I had him stick his fingers in his asshole and fuck himself while he released his shit.
He could not believe the great feeling that he was experiencing, his asshole was releasing  his pungent and slimy fecal matter while his stiff fingers were fucking his tight and puckered pretty pink anus.  He screamed loudly as he finger fucked his asshole and I had him push down on his prostate and as he massaged it back and forth he ended up milking his perfect penis directly into his diaper.
1-888-430-2010
Click Here to chat with a phone sex mommy!
#ab/dl #abdl #ageplay #phoneamommy #phonesexroleplay #ageregressed #ageregression #abdlmommy #phonesex #adultbabydiaperlover #infantilism #phoneamommy #eroticsex #spankings #adultbaby  #MILF