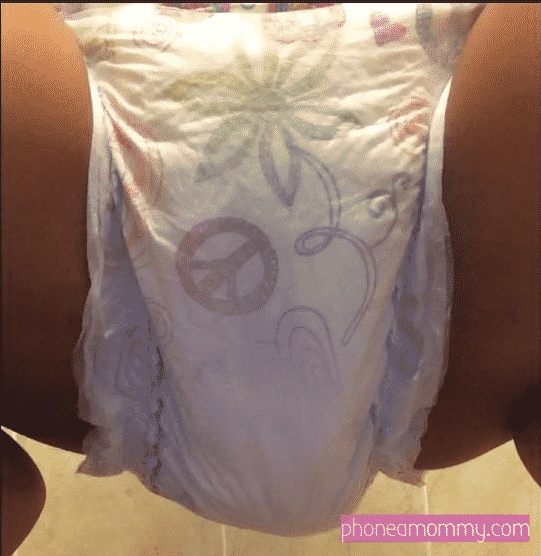 I don't know why babies have this universal notion that they can hide when they've gone poopoo in their abdl diapers. It seems to be imprinted on our DNA, that a baby will, at the very least once, try to hide themselves away to keep from getting a diaper change. It's always fairly obvious what's happening, but I suppose that babies don't have a whole lot of external awareness yet. If they can smell that poopy diaper, chances are that I can too! If a look downward can show them that their diaper changing colors, getting soaked and lumpy… well, you get the idea. I suppose that they think they might have a chance with only one aunt or mommy to watch them, hope does spring eternal after all. But when there is an entire group of women that know exactly what to notice? They should know there would not be chance of getting away with it!
A prime example of that is what happened during a little get together I was having a few days ago. It just myself and a handful of friends, with my little one crawling around on the living room floor, his diapered bottom waggling behind him and a binky in his mouth. He was getting his plump cheeks lightly pinched by Janice as she cooed over him, telling him what a cute baby he was, when he got a peculiar look on his face. For a second I thought she may have been a bit too rough, but as soon as he started to crawl towards his nursery, which is right off the living room, I had an inkling what was about to happen! That inkling was confirmed in less than a minute as tiny grunts and windy little farts started to come out of his room. We tried to keep our giggles to a low minimum but that didn't last long before we were all getting up and walking into the nursery to see my baby boy squatting by his crib, the back of his diaper lumpy and sticking out.
Oh, he blushed as we teased him, his face turning red as tomatoes! We made exaggerated stinky faces at the smell wafting from his messy diaper and teased for being so stinky as we nudged him up onto the changing table. Janice was pinching his cheeks again, making funny faces at him and handing him his favorite stuffie to cuddle with while I unsnapped the crotch on his onesie and worked at getting that diaper off of him. That thing was so aromatic that somebody opened up a window and that silly baby just giggled about it. I made quick work of that diaper, taped up and in the diaper bin quick as a whip! Soon that baby was wiped clean and tucked into a clean new diaper, happy as a clam. Wouldn't you be just as happy with all that attention? Call me for some age play phone sex to tell me all about it!
Aunt Brenda
1-888-430-2010
Click Here to chat with a phone sex lady!
#ageplay #diaperhumiliation #adultbaby #abdl #abdldiaper