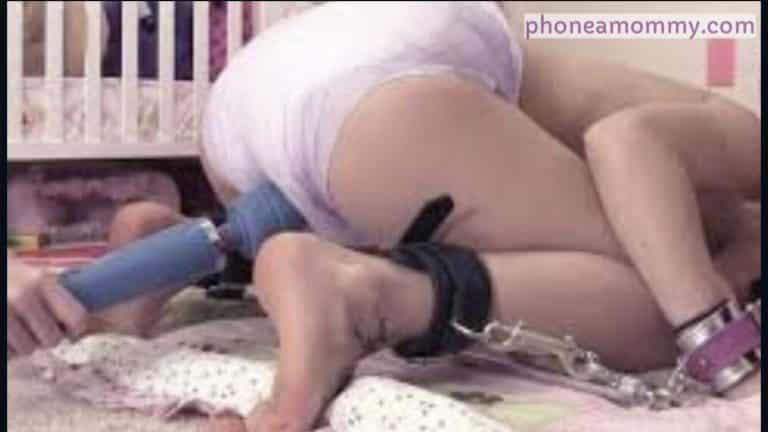 A little abdl sex is exactly what mommy's naughty baby needs.  Not to mention mommy also hehe.  An escape from reality for awhile, mommy will whisk you away and make everything else disappear.  You will be mommy's to play with as she pleases mmmm.
Mommy Candy has everything needed to take care of her Abies in every way possible.  Nothing is too much for mommy.  Mommy loves anything and everything sexual.  When mommy is done with you, you will need a week of rest to recuperate.
Mommy has a treat for those naughty little ones that are hesitant at first.  Some diaper bondage is perfect for those that are shy or have been bad babies.  Diapers, straps and a little buzz buzz, will have you melting for mommy.  You will be squirming and begging for more.  And mommy won't stop until that diaper is soaked with your cummies.
There's nothing better than cradling a cutie in my arms as you nurse from mommy's ample breasts.  Watching as you suck on mommy's nipple, that warm sweet milk flowing into your hungry little mouth.  Mommy can't resist sliding her hand down and playing with your little peepee as you enjoy being in mommy's lap.
Do you need some mommy time?  Do you yearn for the feel of mommy's arms wrapped around you, holding you close?  Mommy thinks you do, and Mommy Candy will cover you in kisses before having her way with you.  There's nothing yummier than a Candy Kiss lol.
When mommy says she likes it all, that's exactly what she means.  A little incest chat between you and mommy, and you will know mommy isn't lying.  Unless mommy is lying on her back with her legs spread heehee.  Silly mommy!
Come join mommy and let her take very good care of you and all your needs and desires.  An adult baby needs a mommy that's ready to do it all and go the ultimate distance for her little one.  So don't be shy and give mommy a call and tell her all your secrets.  Tell mommy about all your fetishes and kinks.
See if you can make mommy blush.  Because Mommy Candy will be turning both sets of your cheeks pink.  There's nothing more erotic than when someone enjoys every aspect of their fun time.  Mommy loves hearing your moans and whimpers as mommy takes you higher and higher.  Your arousal causes mommy to gush in wetness.
That moment of bliss where mommy and her playful little one gasp for air as our glistening bodies recover from mind blowing orgasmic fun.  You can nestle against mommy, as your breathing slowly returns to normal and the sweat dries on your well used body.
Mommy Candy likes it all.  So don't be afraid to call mommy and broach any subject your little heart craves.  There's nothing mommy won't do.  Nothing is off limits for mommy.  Everything is welcomed in Candyland.
With phoneamommy, you can experience all the feelings you have locked away from society.  There is no harsh judgement to worry about.  So call NOW!!
1-888-430-2010
Click here to chat with a fetish loving mommy
#abdlsex #diaperbondage #incestchat #fetishroleplay #notaboo #phonesex