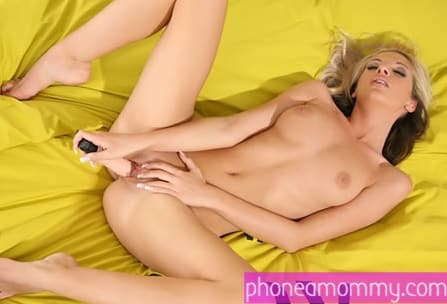 How fortunate I am to play with Shelinda, a fun blonde who just graduated college. I met her while she was at a career fair and I remember I took her resume and it just sat on my shelf ever since. I ran into her in town at a boutique beauty shop and she remembered me, which was surprising as I had forgotten about her. I told her that I did not get back to her regarding the then position because I do not work at that company anymore.
She told me that it is okay, because she is between jobs at the moment because she just graduated college. I congratulated her and she asked what I did now as a profession and I told her that I am a dommy mommy. Her eyes lit up and she became very excited and I told her that she should give me a call sometime and I gave her my phone a mommy business card. It was not even 24 hours later when my phone rang and lo' and behold, it was none other than Shelinda.
She called after midnight as she could not sleep and she told me that her mind ran on me and she decided to give me a call. I was happy to hear from her as I appreciated her zest, energy and enthusiasm and it made me think about all of the very naughty and kinky things that we could do and I looked forward to experiencing those erotic and kinky thoughts with her.
She said that she was curious to try out a mommy because she had been a ddlg in the past. I asked her what happened to her dommy daddy and she told me he got married, moved away and lost interest. I told her that I am not a car for her to try out, and of she wanted to play it will be an ongoing situation if it worked out and it will be an ideal and mutually rewarding sexual relationship for us both and she agreed. She Skype me on the phone and I was able to direct her with everything that I wanted her to do, while having a visual of her at the same time.
I had her undress completely and she revealed to me a stunning physique and she was hairless from top to bottom. My eyes perused her soft tits and her erect nipples and I had her twist her nipples then place her tits in her own mouth and suck on it like an abdl baby. She loved how she was told what to do and she eagerly followed every command. I asked her to show me her toy collection and she was surprised that I already knew about it without us ever first discussing it and I told her that I have a sense that she loves to play and those who love to play usually have a variety of toys floating all around the house.
She laughed and opened up a dresser drawer in her room which revealed dildos, vibrators, butt plugs, anal beads, clitoral stimulators, nipple clamps, handcuffs, paddles, whips, belts and diapers. I was pleased to see her vast collection of sexy toys and our pleasure fest began. I made it my mission to make her play with each and every single exotic toy in her collection and she fucked herself so many times with so many things  and to top it all of I had her stuff her entire hand into her cunt and fist fuck her pussy and that was what made her sweet and wet cunt so sore.
She screamed out my name in ecstasy every single time that she came and though she received several knocks on her door from her neighbors, they fell on deaf ears. All she wanted to do was cum over and over again and after that she came some more. Puddles of cunt cream laced her bed like a spilled scoop of vanilla ice cream and of course, I had her take her fingers and scoop all of it up. She placed her cum laced fingers her mouth repeatedly as she sucked and licked of her own pussy milk and she was ecstatic and in heaven.
She was more than satisfied by what we did and she could not wait for it to continue ever more. I told her to put my number on speed dial so that I am just one button press away and she did. After our sexy phone session, she confided in me that I came into her life out of nowhere and I snatched her soul up with our sexy session and she cannot wait to do it all over again. I thanked her and I told her that I love what I do and as my abdl baby girl, she has not seen anything as yet and she could not imagine what would be cumming next. I guess that she will just have to wait patiently until our next call.
1-888-430-2010