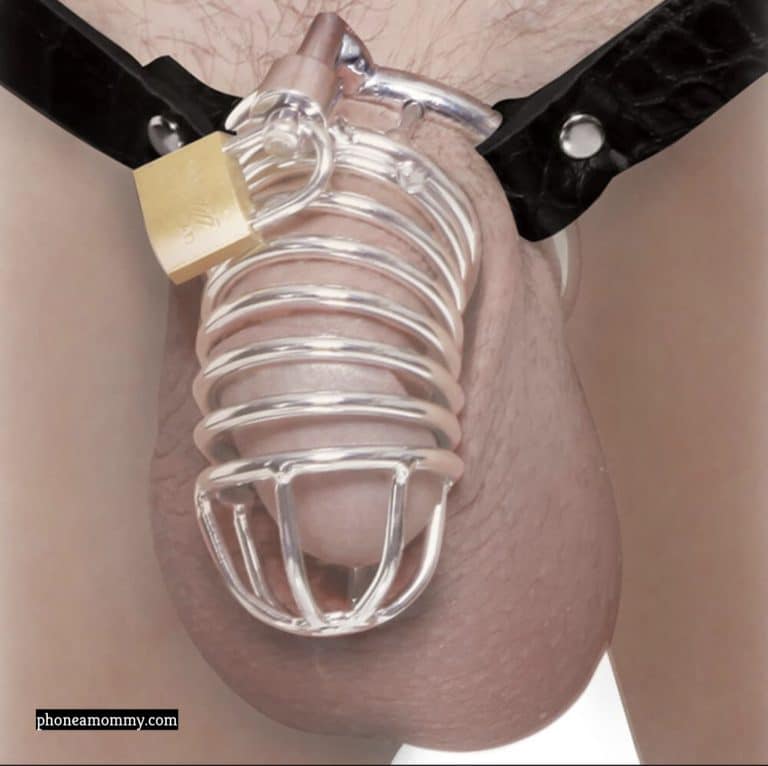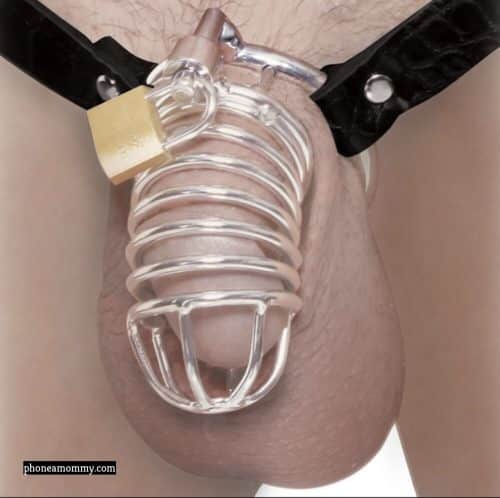 Mommy will get you stripped down naked, so we can get to work on that cock and balls region.  Mommy will lay you back and spread your legs, then mommy will lather you up and get your balls all shaved and smooth.  Next mommy will get out a special cock cage with a tiny little lock, just for you.
Mommy will be the only one that has access to the key, so unless mommy gives you permission or opens it herself, that cage stays nice and snug on your dick.  Mommy slips the cage onto your soft cock and snaps the lock closed tightly.  Mommy gives it a little shake, causing you to gasp slightly.
And you will wear that cage all the time unless mommy decides.  Mommy knows how hard it is for you to keep your hands off yourself, thus the reason for the locked cage.  Only dripping for your dick, no stroking allowed.  The only time that cock gets attention is when mommy chooses.
Mommy will tease and flick your caged cock and torture you mercilessly.  Make you moan and then make you beg for the touch of mommy's hand directly on your dick.  Mommy wants those balls full of creamy cum and ready to burst.  Mommy wants that cock throbbing and twitching in your tight little cage.
Be a good boy and beg mommy.  Tell mommy what you want, what you need.  And mommy will decide if you deserve to cum.  Mommy chuckles as she dangles the key and shakes your cage again.  Beg louder, mommy can't quite hear you.  Does mommy's little guy want to cum?
Mommy grabs your caged cock and pulls you to your feet, then mommy turns you around and smacks your bare ass.  Mommy just loves to hear your cries and groans as you squirm under mommy's hands.  The more mommy smacks that ass the wetter your cage gets.
Cage and cock dripping and you whimpering, makes mommy's pussy gush.  Mommy pushes you back into a sitting position, then mommy straddles your lap, positioned directly above your caged cock.  Mommy steadies herself above you and then slowly lowers her drenched pussy to your twitching cage.
Mommy is going to grind and rock against your cage.  Soaking you with mommy's pussy juices.  Making you beg even louder to be freed from your restraint.  Someone wants to put his hard cock inside mommy's warm wet hole.  It would feel so good to be able to let that dick stretch and unfold from it's tiny cage.
And then to shove it deep inside mommy and fuck mommy hard and fast until you squirt all that pent up cum in your balls.  Mommy will tease you to the point of almost no return, then mommy will free you and let you orgasm hard and profusely.
Call Mommy Candy anytime for some dirty naughty fun.  There's so much we can do to keep ourselves entertained, so let's get started and have some real frisky fun.
1-888-430-2010