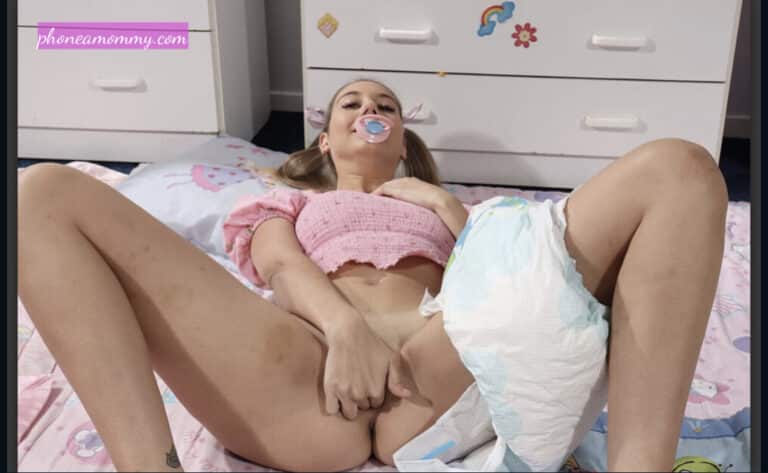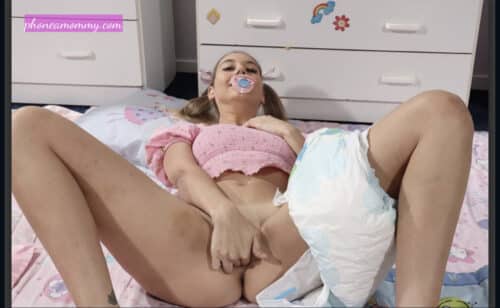 My name is Stacey and I am an abdl girl.  That means I am an adult baby diaper lover.  I choose to wear diapers for fun, not because of a medical reason.  I have been wearing and using diapers for so long, that I just go potty in them with no thought at all.  It just happens now without my control.  Good thing I wear my diapers 24/7.
I love the way the diaper fits to my body perfectly.  It's so soft and crinkly.  When I crawl up into mommy or daddy's lap, the best feeling is their hand squeezing my diaper and rubbing it against my little bottom and pussy.  I can't help myself then and I start moaning and soon I squirt in my diaper.
I love sitting in my full diaper.  The wet messy diaper feels so good when I rock back and forth.  That I start rocking faster and faster.  Feeling the warmness spreading and squishing all over.  Between my cheeks and between my swollen pussy lips.  The inside of my diaper covered from front to back.
The mess makes mommy have to work extra long to get me all cleaned.  The feel of mommy's hand and fingers pressing against me as they use baby wipe after baby wipe to get into all the hard spots.  I just love when mommy teases me about being a stinky baby.  I giggle and blush at mommy's words.  Girls in diapers can get so messy.
If you would like to come over and play with me, mommy will get us all set up in clean diapers and with lots of toys to keep us busy.  And if we get bored with our toys we can always play with each other.  Mommy won't mind.  Mommy will hear us making all sorts of noises and will know exactly what we are up to.
We could play in the nursery until mommy comes to check on us.  She will check our diapers to see what kind of messes we made and then change us if needed.  She will also come to see if we are ready for something to eat.  Mommy always has yummy sweet mommy milk for us to enjoy.
We will crawl up into mommy's lap, a booby for each of us.  Mommy's big full breasts ready for us to wrap our lips around her hard nipples and start sucking.  Mommy's warm milk squirting into our mouths and down our throats.  Mommy tastes so good.  mommy smiles as she looks down at us nursing hungrily.
Being in mommy's arms on mommy's lap is so soothing and comforting.  I love mommy and mommy loves me.  Mommy makes me feel so safe and loved.  I close my eyes and soon fall asleep sucking on mommy's nipple.  My mouth slowly relaxing, milk dripping from my lips as mommy lifts me up and carries me to my crib.
I curl up with my stuffies as mommy wraps my blankie around me.  Mommy leans down and kisses my cheek as she pats my diapered butt.  Call today for some fun abdl sex talk.
Baby Stacey
1-888-430-2010
Click here to chat with a ABDL Stacey
#sextalk #abdlgirl #girlsindiapers #abdlfetish #diaperfetish