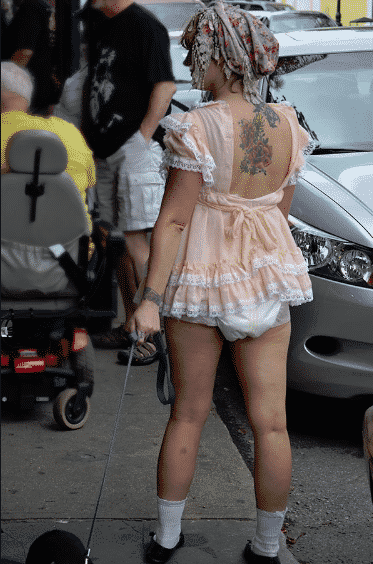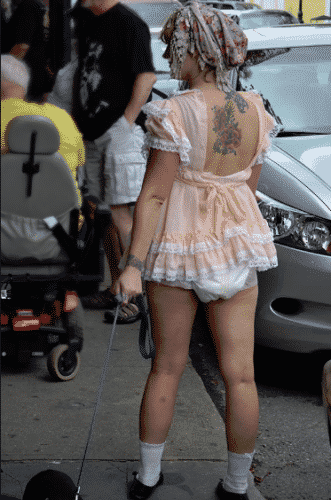 How would you like to be in a sissy baby pageant contest? Crawling and waddling and maybe even skipping over the stage to show off your best sissy side for the judges! You have to be all dolled up, of course, from the crown of your head to the tips of your toes.  Maybe a cute blonde wig with curly pigtails tied up with pink ribbons? A pink ribbon collar around your neck, with a little bell dangling in the front to tinkle as you move around; I may even tie bells around your ankles, everyone will be turning around to watch you. We have to put you in a cute pink dress, fluffy and adorable, something extra short to swish around the tops of your hips. It doesn't need to be even close to long enough to cover the top of your adult diaper covers, pink with ruffles, of course. Silk thigh-high stockings underneath that and some white Mary Janes to finish everything off!
Be sure to smile big for the crowd, and if some of the judges decide that they want to take a closer look at you, then that's fine, isn't it? You are also a good little sissy faggot for Mommy, and you wouldn't mind a bit if you got the chance to show them just how hungry you are for cock.  You will be happier than anyone else there is you get to play with theirs! I know you would put on a good show for me, right? You be sure to let them know that you don't mind being spit=roasted, so that me and everyone in the crowd can watch you at your dirtiest, diaper down around your thighs, your baby clittie bouncing up and down, a thick cock stuffed down your mouth and your pussy. You suck and fuck them so that they will come begging back for more and definitely giving you all the points you need to win the pageant!
As a reward for winning first place, I may allow you to touch yourself inside of your diaper on stage, in front of everyone! I want to see your hand jerking up and down, pressing the diaper out while you do. I want to see your thighs shake the closer you get to an orgasm, I want to watch you bite down on you lip trying to hold back a moan, and hear your moans when you can't hold them back anymore. And I definitely want you be a dramatic little queen when you cum your brains out in front of everyone! Throw your head back, moaning and gasping like you are about to pass out, jerk your hips back and forth, I don't want anyone to be uncertain about what you just did! And for a tasty treat, I want you to lick your sticky cummies off your fingers too, sucking on them if you have to. Sound like fun to you? Call me for some sissified baby phone sex!
Aunt Brenda
1-888-430-2010
Click Here to chat with a phone sex lady!
#ageplay #diaperkink #diaperhumiliation #abdldiaper