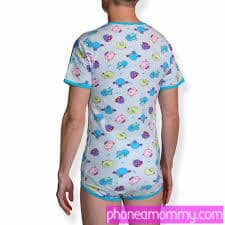 Brenda's ABDL Roleplay With Harry: I am seductive and sexy Aunt Brenda, and I am a MILF that is very experienced when it comes to hot and erotic abdl roleplay, and I really enjoy playing with my abdl Harry. Harry is a lot of fun, and this is the main reason why I enjoy roleplaying with him so much. I don't even have to voice my wants, needs, or desires to Harry, as he already knows what I want to do, and he makes sure to accommodate me every single time.
I have an alarm clock, like most people who want to wake up on time in the morning, that is next to me, but I rarely ever have to use it as Harry uses his wet mouth to wake me up in the morning. He does not do what you would expect one to do with their mouth to wake me up—he does not yell or scream. Harry uses his amazing mouth, which is warm after drinking a hot cup of coffee, to place it on my sweet and succulent vaginal lips to wake me up with oral pleasure that is truly out of this world.
Waking up to my stiff clitter getting softly sucked on like a tiny cock as well as having my cunty lips seductively explored is what turns me on so much. I would wake up with a smile, and as I lay on my back, I would gently—with my eyes closed—feel for his head, take both of my hands, and moderately grab the back of his head to make sure that he kept his hungry mouth on my perfect pussy so he could drink up and swallow all of my sweet juices when I would have an orgasm directly into his anticipating mouth. When I came, he would drink me up so much that it looked as if he spilled a sticky liquid all over his face, as his face would be saturated in my vaginal juices.
After I orgasmed, that is when I would take my soft fingers and place them in his tight asshole and finger fuck his brown asshole while pressing down on his prostate. He would erotically rotate his waist and hips the more I would manipulate my fingers inside and out of his anus, and I would stimulate his prostate over and over again until he would not be able to take it anymore, and he would beg me to stop.
I would grab his full balls and squeeze them just enough to feel how tight they felt inside of my hand, and this made him go even more crazy as he was getting multiple parts of his body stimulated at the same time.
This is hot, but you need to find out how hot and sexy I can get, so you need to give me a call now so we can get into the sexiest of sexy roleplays ever. I am ready to take you on a journey that you will never forget and teach you things that you never thought that you would know, so reach out to me now and let us play. Click Here
888-430-2010