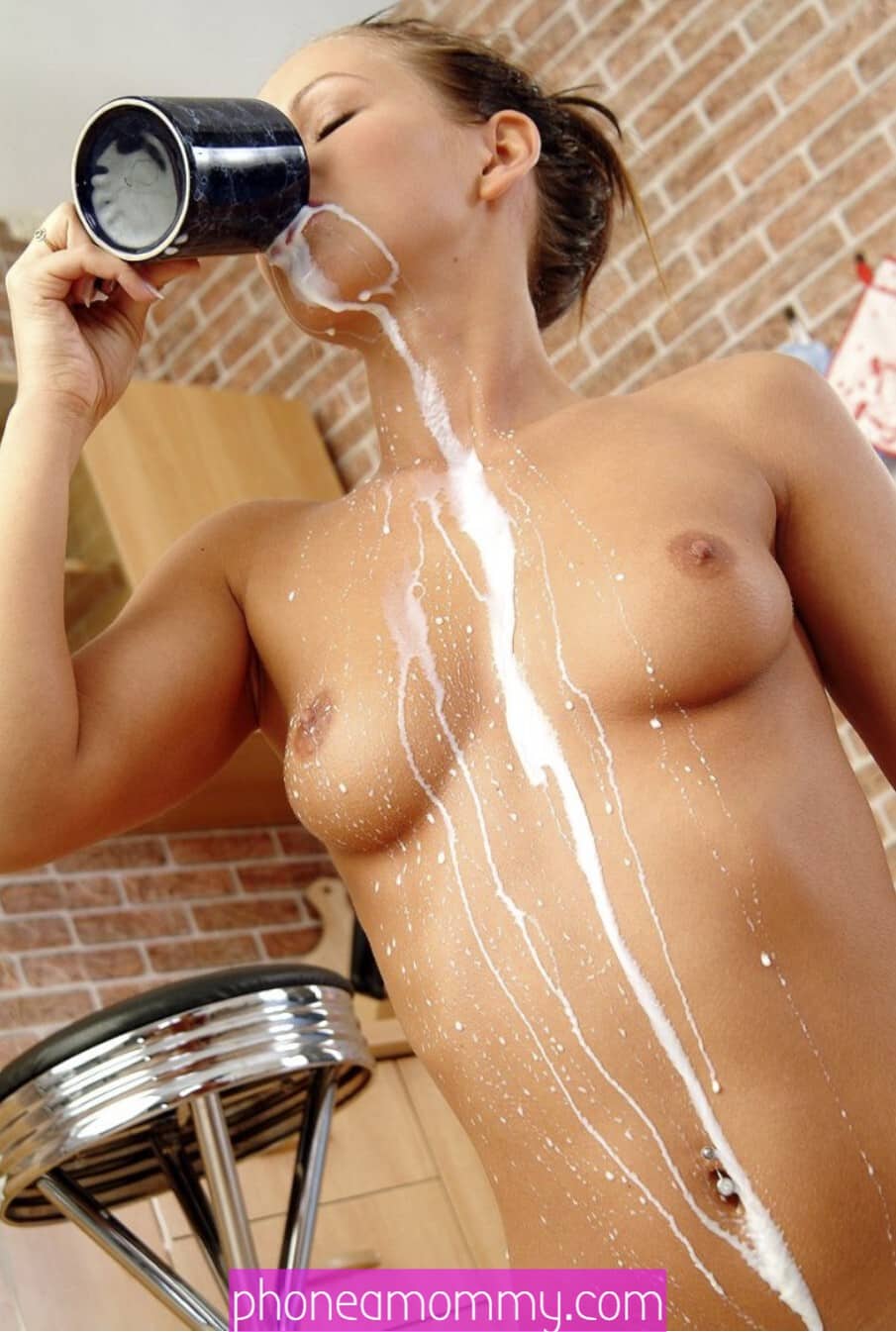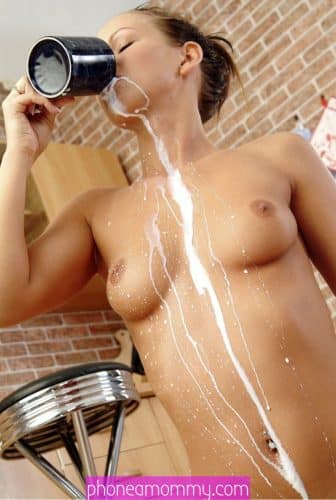 I heard a funny noise in the middle of the night and it appeared to be coming from downstairs somewhere, somehow in my house.  I proceeded with absolute caution only to find a beautiful naked young lady in my kitchen guzzling down the milk from my fridge in a black cup while milk spilled down her naked body to her pussy and then on to my kitchen floor. I approached her and she jumped with nothing but fear in her eyes; it was obvious that the way she reacted to my presence that she had survived some type of trauma recently.  She whispered an apology for breaking into my house, but she professed that she had just escaped a kidnapping situation and that is why she was so desperate and she begged and pleaded with me not to call the police.
I looked at various parts of her body and noticed that there were no visible bruise marks which indicated to me that anyone was abusing her.   She expressed, tearfully that she previously had a great relationship with her boyfriend and she used to be a ddlg.  Over time, her needs changed and she wanted to try something new and she asked her boyfriend if he would allow for her to play with a female as a mommy  when they do abdl roleplay and he bluntly said no!
It was at that point that she felt that she had no choice but to leave him and as she tried to leave him he kidnapped her and held her at his home as a hostage ever since.  She was able to escape – finally – and was lucky enough to stumble upon my house where, due to her small and minute frame,  she was able to enter through a small opening in my front door which was originally intended for domesticated animals.
I told her that it is a good thing that she escaped and she agreed.  She continued talking about how she was limited in her diet as to what she was allowed to consume.  Baby food was a treat that she would get at times when she followed instructions immediately, but most of the time – she survived on drinking his protein filled cock in order to swallow down nutrients from his cum.
She also talked about how he used to diaper her and keep her in a pee and poop stained diaper for several days at a time.  She was regularly fucked both vaginally and anally and to keep the noise down from when he rammed his cock into her tight holes, he had a ball gag in her mouth.  For a long time she accepted that this was how her life was going to be and she almost gave up trying to escape until he got comfortable and relaxed enough to drink himself into a drunken state and that was her way out.
Would you like to roleplay as well with a fantasy or fetish that you have been craving for so long? Maybe you think that it is too extreme and you are afraid to share it with anyone due to self pride or shame.  This is a judge free zone where you and I can explore your deepest, darkest and sexiest roleplay fantasies.  So delay no more and pick up the phone and call phoneamommy and ask for Aunt Brenda right away.
1-888-430-2010
Click Here to chat with a phone sex mommy!
#ab/dl #abdl #ddlg #phoneamommy #phonesexroleplay #diaperlover #diaperfetish #abdlmommy #abdlcommunity #adultbabydiaperlover #diaperfantasy #diaperhumiliation #phonesex