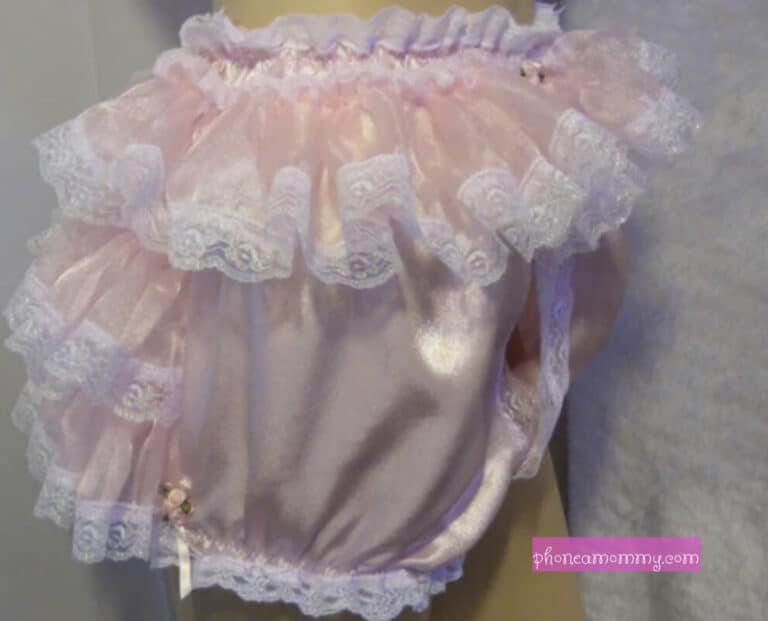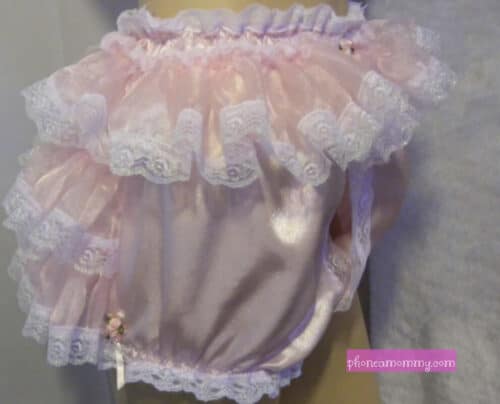 Sweet and Sassy: Mommy just loves taking her pretty little sissy shopping. There are just so many adorable outfits and dresses to choose from. And a definite must are the pretty little pants under that dress and over that diaper. And there's nothing cuter than when you come out in each outfit and show it off for mommy.
Your twirls show off your lovely little pants and make mommy very happy. And mommy just loves to see you blush, with cheeks the same shade of pink as your pants. Mommy watches you try on everything from pretty dresses to frilly skirts.
Mommy's favorite thing to do is show off her sassy little sissy.  You will be the center of attention, everyone will notice you and your cute clothes.  And mommy will be so proud of her princess.  We will have so much fun dressing you up.  An outfit for every circumstance.
And let's not forget tights, folded-down socks with lace, and Mary Jane shoes to finish out the look. You will be the perfect little princess. She's pretty in pink and prancing around. Dancing for mommy and looking adorable.Mommy's sweet baby girl
A day of shopping means mommy has to be prepared for all of her little one's needs.  Mommy has a diaper bag packed with cute pink diapers, baby wipes, powder, and a changing pad. That way mommy can lay you down, lift your skirt, pull your pants down, and change your dirty diaper.
No matter where we are or who is around, It's mommy's job to check baby's diaper and change it as needed.  And mommy is very good at her job. Mommy loves changing diapers and cleaning up the baby before putting on a fresh new diaper.
And mommy just loves the blush that covers baby's pretty little face as everyone watches you get your diaper changed.  Everyone thinks it's just so cute when you get embarrassed.  Mommy included.  Mommy chuckles at your shyness.  Mommy coos out loud and makes sure everyone is focusing on you getting your diaper changed,
Mommy smiles brightly and finishes diapering you up. Then mommy stands you up and pulls your pants up and your skirt down. Straightening you all up.  All done, now the baby is ready to finish shopping with mommy. At least until the next diaper emergency.
While we are out shopping for pretty clothes, we better stop and buy more diapers. Definitely don't want to run out of them.  Always better to have too many than not enough.  And diapers are good for all of your sissy messes. From peepee to poopy, from stinky to sticky, All of the baby's messes
Who out there needs a mommy to dress them properly?  Who needs a mommy to diaper them and change them? Who needs a mommy to take care of them? Who just wants mommy to take control and tell them what they need?
Mommy Candy has a pretty good idea who YOU, that's who!
So, delay no longer, and call Mommy now. Click Here
1-888-430-2010