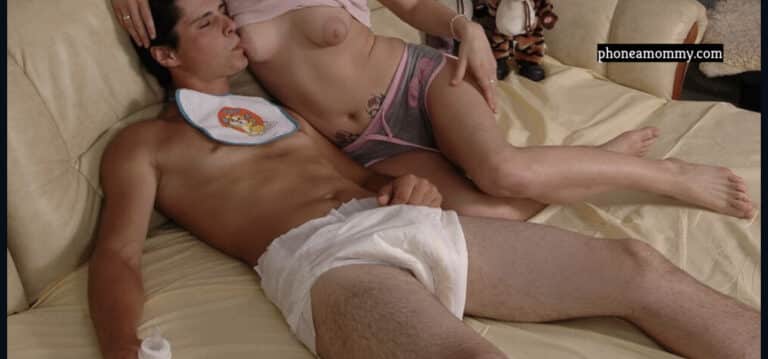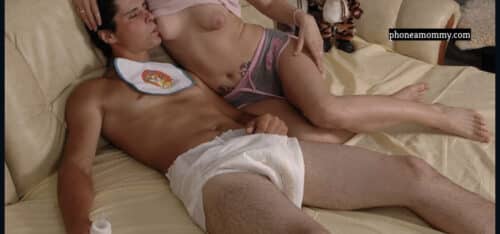 Let Mommy Take Care of You: A little mommy sex sounds perfect at the moment. Come over here and cuddle up against mommy. Mommy just loves the sound of that diaper as it crinkles. Mommy's full, heavy breasts are aching; they are so full of milk that mommy needs her sweet adult baby to nurse and drink from mommy's breasts.
Curl up next to mommy, suck that leaking nipple between your lips, and start nursing. That's a good baby. The feel of your wet mouth wrapped around mommy's hard nipple makes mommy's pussy very wet. The graze of your teeth and the pulling on mommy's nipple make mommy's puss throb.
Mommy slides her hand over your diaper bulge, feeling your hard peepee twitch inside. Mommy feels you start sucking harder as your hips start moving against your diaper and mommy's hand. Mommy squeezes your crotch through your diaper and smiles.
As mommy rubs your diaper, she places your hand between her thighs so you can feel the heat through mommy's shorts. Be a good boy and undress mommy. Take all of mommy's clothes off and show mommy what a very good boy you are. Mommy pulls your diaper down and starts playing with your hard peepee.
Mommy wants to make that cockroach for mommy. Mommy wants to make you explode all over for her. Mommy wants you to slide your hard, throbbing dick into mommy's very wet pussy and fuck mommy good and hard. Make mommy squirt all over that peepee and diaper.
Adult baby and mother sex is the best; the closeness and the special connection between mommy and baby make everything so much more enjoyable. It makes mommy want to take very good care of you and all your needs. A mother's love for her little one is a thing of beauty.
Give mommy a call and let mommy show you exactly what mommy means. Mommy likes it all, so just crawl up into mommy's lap and tell mommy what baby likes. Tell mommy everything that gets you excited. Tell mommy all the thoughts going through your cute little head.
Let Mommy Candy take you to a whole new world of pleasure. Mommy will make all your fantasies and dreams come true. And when mommy is done with you, she will clean you all up, and after diapering your little bum, she will cuddle with you until you fall fast asleep.
Mommy smiles down at you as you curl against mommy's body, a look of peace on your adorable face. That's a good baby. Go to sleep and dream about mommy. Special dreams about mommy and you Mommy won't be surprised to see more than a smile when her baby wakes up. A hard little peepee inside that warm, wet diaper definitely would not be a surprise, that's for sure.
A little fun to start our day. Mommy will make you sit in your diaper before cleaning you up and changing you. So, give mommy a call and let mommy make your day so much better. Click Here
1-888-430-2010