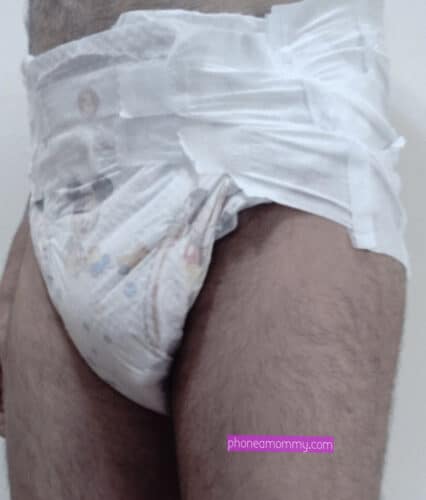 Show Mommy That Diaper: Mommy just loves it when you show off that diaper. Strike a pose and show mommy your diaper from all angles. Be a good adult baby and wiggle that diapered bottom for mommy. You know how much mommy loves to see you in your diaper. Mommy's little show-off
And mommy definitely loves it when you use that diaper. The fuller, the better. When your diaper gets heavy and squishy and starts drooping from between your thighs, mommy can't help but reach out and squeeze that fat diaper. Mommy thinks that's the best part of diapers.
And diapers are meant to be used and filled. And are perfect for all of the baby's messes. Peepee, poopy, and sticky gummies Once you fill that diaper up, mommy will lay you down and change that messy diaper. A diaper boy like yourself just can't help it.
Mommy knows how good that soggy diaper feels. And mommy also knows that sometimes that warm, squishy diaper makes baby excited. Don't be ashamed or embarrassed; like mommy said, the diaper is meant for all of the baby's messes, even those creamy accidents.
When mommy's little one runs around in just a diaper, mommy can always tell when you have made a potty in your diaper. And when it's a stinky one, mommy can definitely tell. A sniff of the air and everyone can tell. Luckily, mommy always has lots of diapers, baby wipes, and powder on hand.
Mommy will take very good care of you, and all you have to do is be a cute Abdl and show off that diaper for mommy. Mommy is aware that you have a diaper fetish and that you get very excited when you show it to her. Another reason Mommy constantly squeezes and pokes your diaper every time you waddle by
You love all the attention you get in your diapers, and everyone adores a baby. Especially mommy.  And when you get excited in your diaper, it makes mommy happy to see how much you love being a diaper-loving adult baby. That little peepee of yours gets so hard inside your diaper.
It's so cute watching you wiggle and squirm in your diaper; mommy knows you're enjoying the feeling of that warm wetness rubbing against you and your throbbing little peepee every time you move. And when those little moans and whimpers escape your mouth, mommy knows it won't be long until you explode and poop in your diaper.
Mommy would love to diaper you, have you dance around for mommy, and then ultimately change that dirty diaper. Would you like to be Mommy's good little diaper baby and show off that cute diaper for Mommy? Or, better yet, make a sticky for mommy and then have mommy clean you all up and diaper you in a fresh new diaper?
Diapers can be so much fun for everyone. Join the fun and give Abdl Mommy Candy a call. Let mommy strip you down, diaper you, and then baby you. It's the best fun ever! Click Here
1-888-430-2010